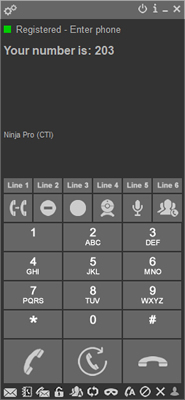 Ninja is the popular phone with the classic look & feel.

The software telephone for Windows PC is suitable for all situations of the everyday life.

It is characterized in particular by the easy handling, the excellent voice quality and the functions related to the system telephone. Our CTI interfaces, e.g. TAPI and protocol handler support, round off the phone.
Through the integration of IT and telecommunication, you are calling with a wholesome, flexible software telephone on your PC. The software telephone replaces ISDN and analogue telephones. Free hands to work on the PC and seamless integration into your work environment are few advantages of a software phone. Enjoy maximum workplace ergonomy.
Ninja-Lite for FREE:
Install and start the software version above. Select the LITE Mode during the licensing process. "Ninja Lite" offers telephony for everybody! Get it and start.
The Download contains all license types, incl. a 7-days TRIAL period.