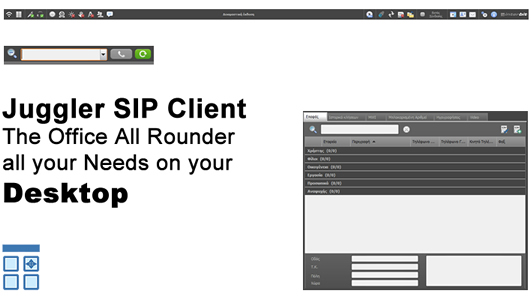 Convincing and well thought out user ergonomic. Designed for the office life to use the full screen for all the essentials.

No space is wasted. Individual telephone areas can be shown or hidden completely at any time. Always use 100% of the screen as a working or presentation surface.

A unique and modern menu navigation. "Wiping" twice with the mouse pointer against the screen edges expands the conventional Windows menu navigation. Double wiping at the top of the screen shows all performance features, wiping twice at the right edge of the screen shows the work area. By wiping at the bottom of the screen, you either open or close all windows of the phone
By using drag & drop, Juggler simplifies transfer, attended transfer or forwarding before answering the call. Simply drag & drop an active phone line intuitively to a second telephone line, onto a contact or to a spontaneously entered number in the number entry field. Juggler carries out the right action independently. In addition, you will be informed quickly and clearly whether the action is valid. If an action can be performed, the displayed drag & drop field is lit "green". If an action is not feasible, the drag & drop field will be lit up in "red".

For wireless telephony with the headset we recommend that you use devices like Jabra, plantronics or Sennheiser.

Action URLs allow you to exchange data between the phone and, for example, a web-based customer administration. Phone numbers are forwarded to your browser solution so that your IT specialist can derive a direct reference to your master data and display data about the caller without delay or workplace-related forms, etc.

Juggler also offers the generation of own text files with telephone variables for direct or downstream evaluation. It is also possible to create overwritable files, e.g. for patient management such as "Charly" (dentist software), or integration into VBA or BATCH files, etc.
The Download contains all license types, incl. a 7-days TRIAL period.